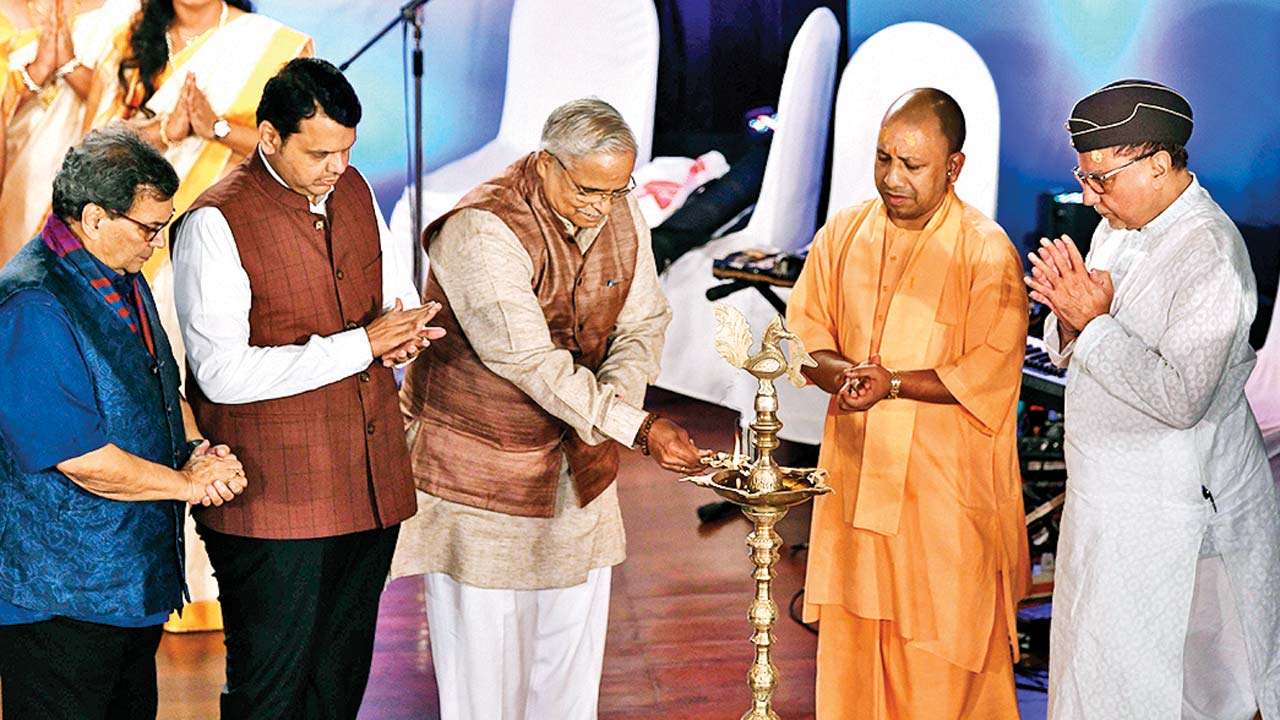 Speakers at the first-ever Sanskriti Kumbh here said people should look to going for Kumbh as it is meant for Vishwa Kalyan (world's betterment). The event, organised by Naimisharanya Foundation at ISKCON temple in Juhu, was meant to spread awareness and significance of the Kumbh.
The Foundation has Rajya Sabha MP Subhash Chandra along with President's nominee to Rajya Sabha Sonal Mansingh & Lata Mangeshkar as board members. Among those present were Maharashtra Chief Minister Devendra Fadnavis, UP Chief Minister Yogi Adityanath, senior RSS leader Bhayyaji Joshi, filmmaker Subhash Ghai, Delhi BJP president Manoj Tiwari and who's who of film and art world.
"Kumbh is for the betterment of the entire world. UNESCO has given it a cultural event tag. Sometimes, from civil society, we hear that the image that goes abroad is of Naga or that of poverty… We want to urge that you take a pran (resolve) that when you go, you will go with your family and try to take five more families with you. Kumbh is not just a sangamam of sadhus and saints… it will give punya to us too," said Subhash Chandra.
"We will be opening up a lot of things that were not the case earlier," said Yogi Adityanath. "High commissions of several countries will be coming and I can promise that you will not find any dirt or smell. The idea is to take our Sanskriti to the world. Kumbh has been for a long time, but it was only after PM Modi assumed office it got the heritage tag," said Adityanath.
"People live for self by Sanskriti and Sanskar tell us how to live for others. In films, it is famously said that people get lost in Kumbh. When we organised, we ensured that those who were lost, were united," said Fadnavis.
"Temples were broken and they were rebuilt. Ved was burnt but Ved did not disappear. Similarly, a 'pratik chinha' will soon come up in Ayodhya," said RSS general secretary Bhaiyyaji Joshi.
The event saw the release of two books — Sanskriti Kumbh and Mahakumbh Avem Sangam Snan.